Custom Logo Printed Slide Gift Box Barfi Packaging Rigid Cardboard Box with Drawer and Gold Hot Foil Logo
Product name: Custom Logo Printed Slide Gift Box Barfi Packaging Rigid Cardboard Box with Drawer and Gold Hot Foil Logo
Category: Food Boxes
Material: 1200 GSM Rigid Paper, 157 GSM fancy paper
Printing: CMYK printing, Hot foil stamping
Finishing: Matte Lamination
Size: 20*18*3 cm
Product introduction:
Custom Logo Printed Slide Gift Barfi Packaging Boxes Rigid Cardboard Box with Drawer and Gold Hot Foil Logo
Slide Gift Box Features
1. The dimension of the Slide Gift Box is customized, it is 20*18*3 cm.
2. The material of the Slide Gift Box is 1200 GSM rigid paper, 157 GSM art paper, they are eco-friendly and recycled.
3. The logo on the Slide Gift Box is foil stamping with the matte lamination on the surface.
4. Application of Slide Gift Box: packaging vacuum clear, electronics packaging, shipping, ect.
5. Free design services for printing and finishing with the fast sampling services at the cheapest sampling cost.
6. Low MOQ at 100 pcs, the bulk order will be completed in 1 week if the quantity is less than 5,000 pcs.
7. Professional factory with FSC, CE, RoSH, REACH, ISO9001 certificates

Slide Gift Box Specification
| | |
| --- | --- |
| Materials | 1200 GSM Rigid Paper, 157 GSM fancy paper |
| Printing | CMYK printing, Hot foil stamping |
| Finishing | Matte Lamination |
| Size | Customized |
| Color Type | RGB, CMYK, Pantone |
| Book Shape | Gift Paper Bag |
| Artwork Type | PDF, JPF, CDR, Ai, PSD |
| Shipping Method | Air express, By sea, By air |
| Payment | PayPal, T/T, West Union |
| Sales Policy | 12 month warranty |
Slide Gift Box Pictures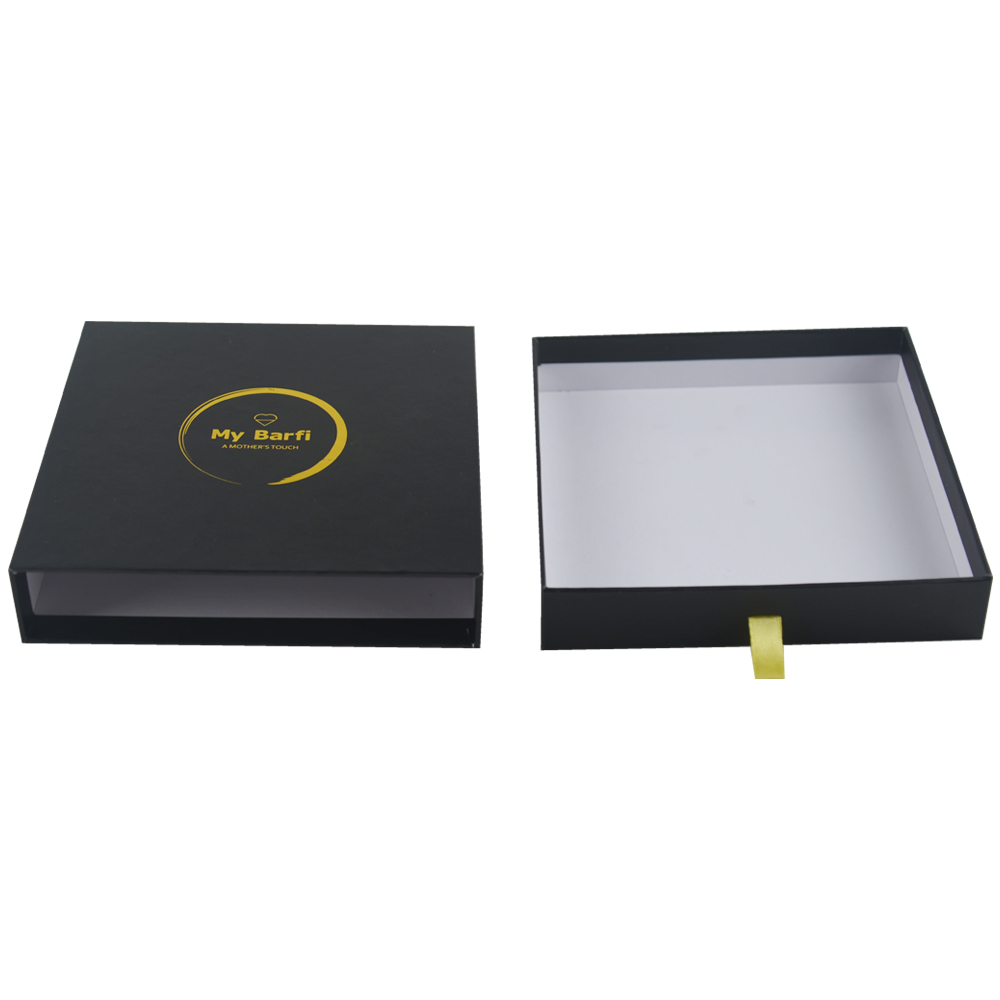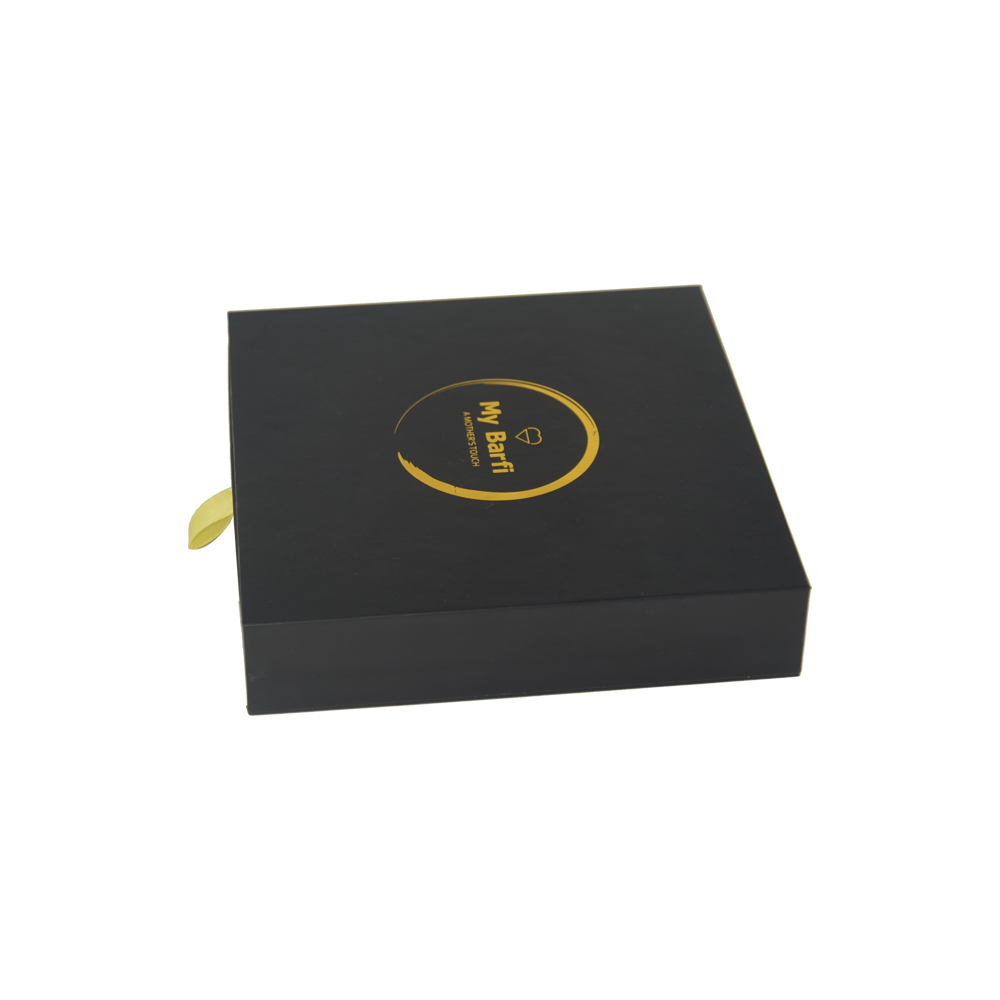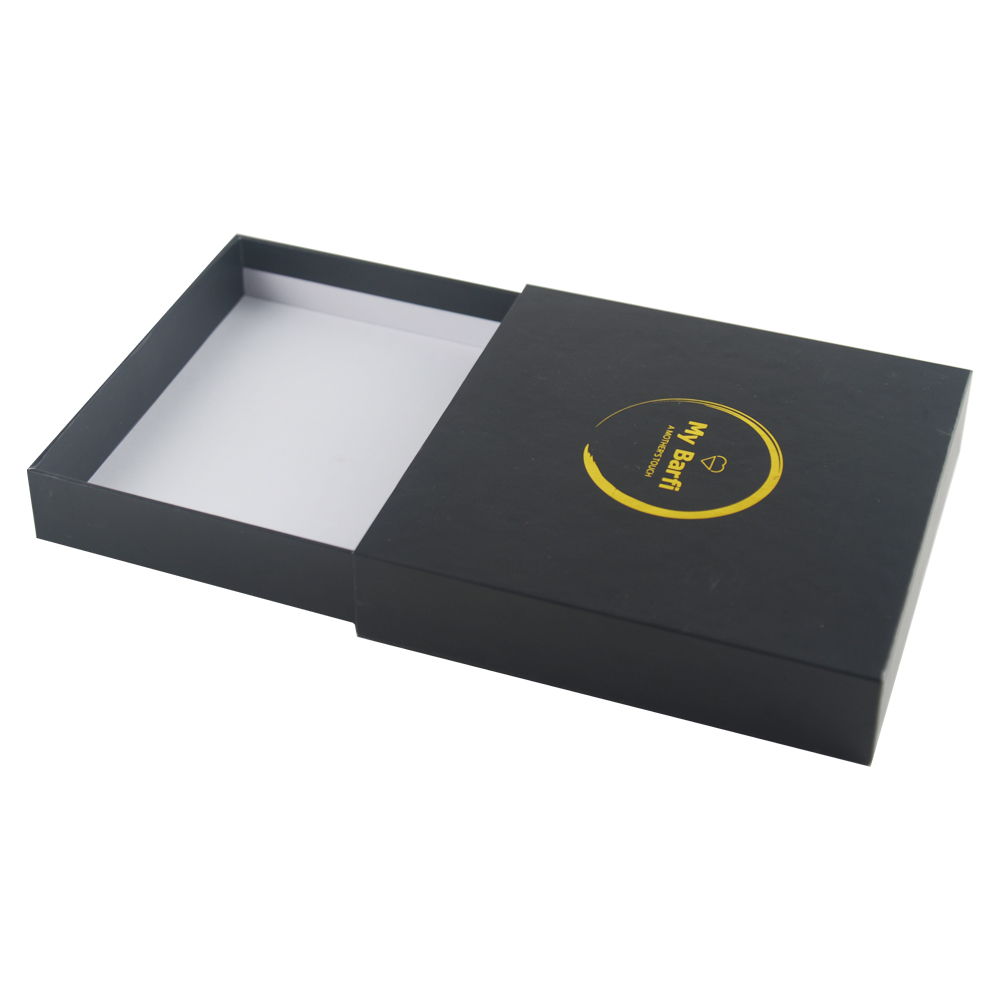 Slide Gift Box Common Material
1. Various material option for Slide Gift Box, all cardboard are eco-friendly and recycled.
2. Art Paper, Glitter Paper, Pearl Paper, Kraft Paper are available for Slide Gift Box in different weights.
3. All material will be imported after quality inspection to make sure all material are at a high quality.
4. All material are in stock, and are stored in a safe warehouse.
5. All material can be provided with FSC, CE, REACH certificates.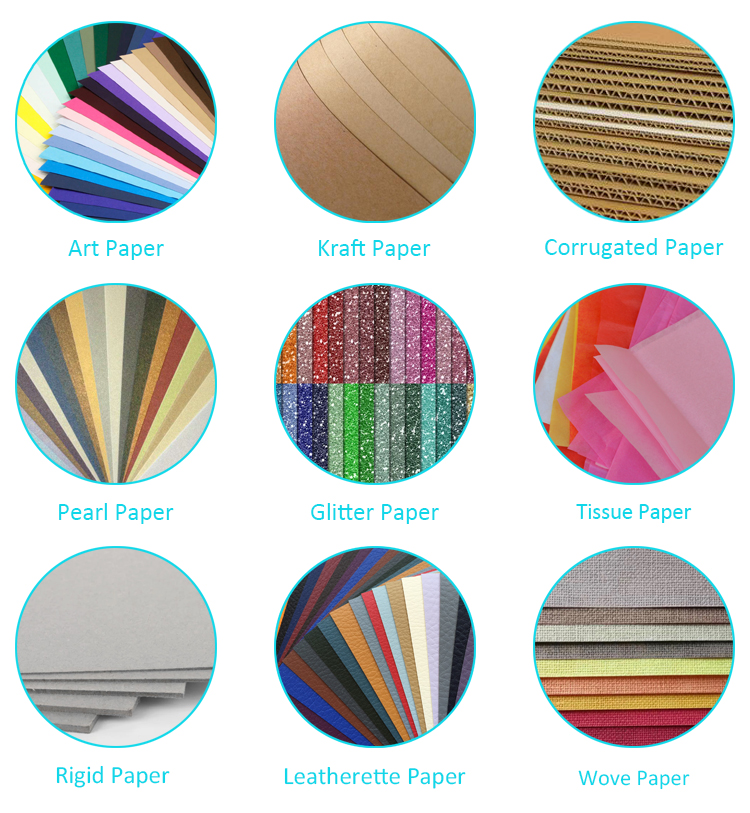 Slide Gift Box Common Finishing
1. All Slide Gift Box can be completed by the customized finishing requests.
2. We can supply a whole solution for the finishing including hot foil stamping, spot UV, glossy lamination, matte lamination, debossed, embossed, etc.
3. All finishing methods are safe and environment friendly, we can provide the testing reports for our customers.
4. We can suggest our customer choose the best finishing to make their Slide Gift Box more beautiful.
5. All finishing will be approved after the quality control test.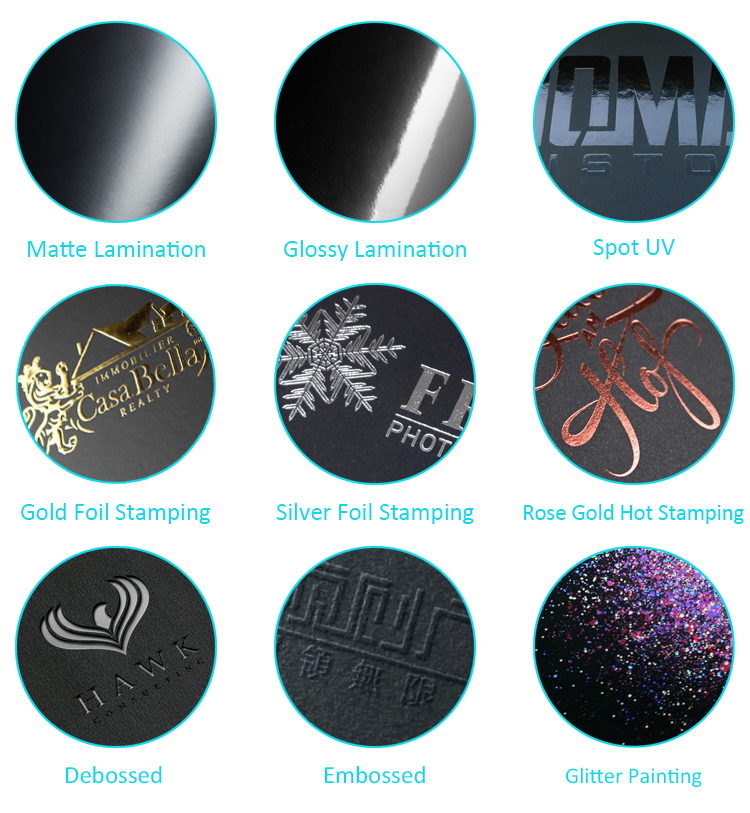 Slide Gift Box Factory Information

As a professional manufacturer for the Slide Gift Box, Zhibang Packaging provide the one-stop solution for our customer from the raw material option to the finished products test.
To make our customer satisfied with us, we have been imported various advanced machines to produce the paper packaging products, we not only provide the printing services, die-cutting services, finishing, but also can supply the handmade services.
For the sake of our customers, we also have trained lots of experienced workers to operate the machines, and finish the handmade working. Here is what we can offer as below:
1. Fasting sampling services at the cheapest sampling cost, we can work out the samples according to our customer's requests in 3 days, and will ship the samples to our customer through official DHL for free.
2. Free design services, free template services. Our engineering team will provide the free design services and the free artwork only if our customer can tell us their own ideas.
3. Fast lead time for the bulk order, we are running over 10 producing lines which can work out 5,000 pcs order in 7 days.
4. Strict quality control, we will check all the raw material when we got them from our vendors, and all the finished products once the mass production is completed.
5. Best customer service, our sales will provide their help when customer send us the requests, and supply the after-sales supports once the goods has been shipped out.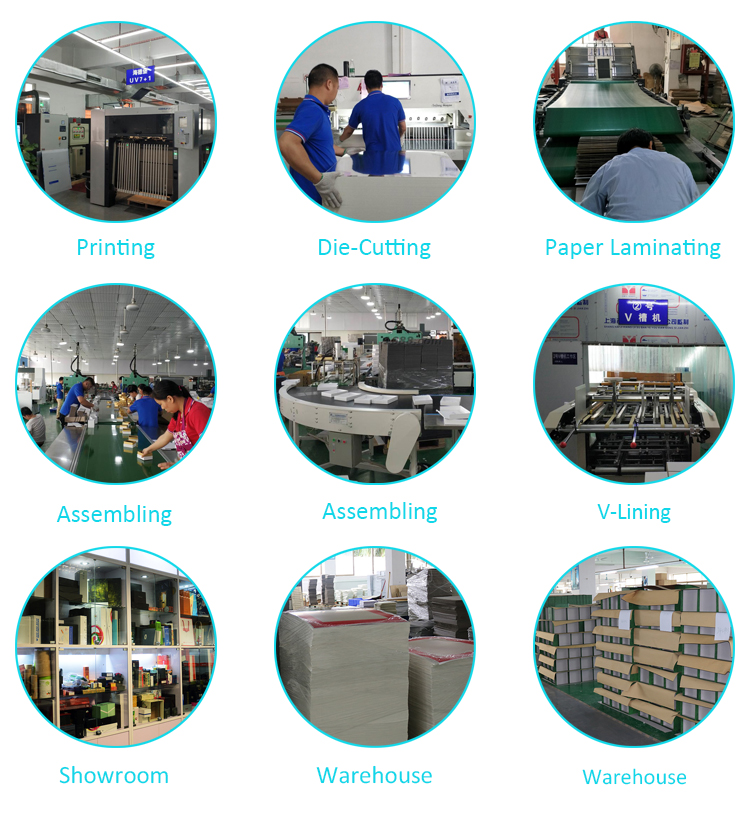 Customer Feedback About Slide Gift Box
1. Most of customers are satisfied with our price and quality, all of them think it is not easy to find a professional manufacture for the Slide Gift Box who can supply it at a competitive price.
2. All customer of us are satisfied with our lead time for the sampling order and the bulk order, we can work out samples in 3 days, and it will take 7 days if the bulk order quantity is less than 5,000 pcs.
3. Our customers speak high of us about the professional service in packaging, they think it is very easy to discuss with our sales about their Slide Gift Box.
4. Our customer trust us a lot, because our sales service is pretty good, they can provide all kind of help when discussing the order.
5. All customers say that they would like to build an on-going business relationship with us because we are a professional factory for the Slide Gift Box.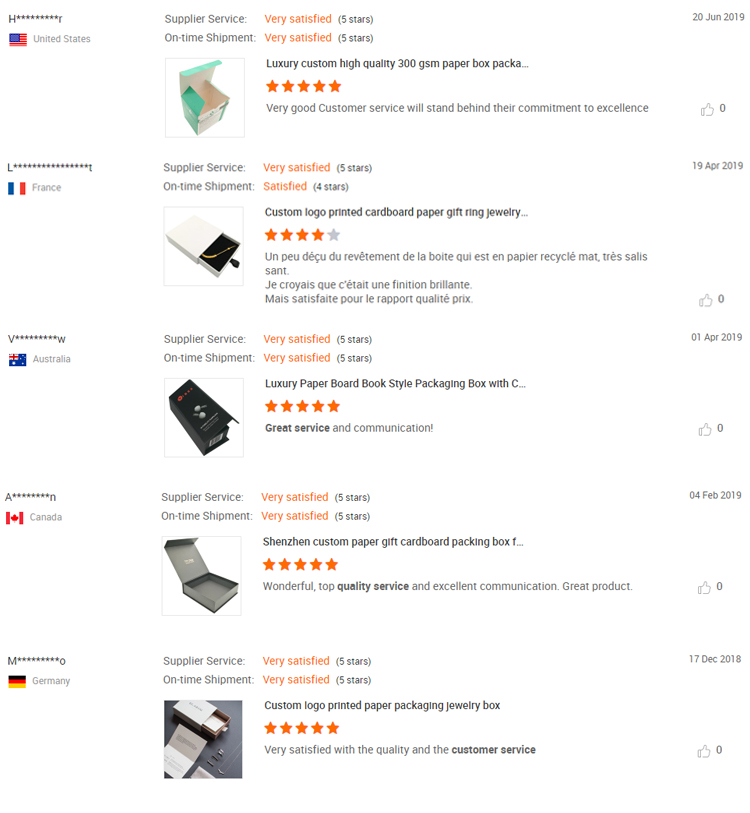 Frequently Asked Questions
Question 1: How long will it take for the sampling order, and how much is it?
Answer 1: Generally speaking, our sampling time is 3 days, and the basic cost is 100 USD.
Question 2: How long will it take for the bulk order, and which kind of payment do you support?
Answer 2: In fact, we can complete the 5,000 pcs order in a week, we can accept the PayPal, bank transfer.
Question 3: Which kind of files do you support for the packaging, and do you offer the free design service?
Answer 3: We accept all kinds of formats for the artwork, and will provide the free design for you.
Question 4: If I am not satisfied with the samples, what should I do?
Answer 4: If the samples are not good as you expected, you can ask us to refund the sampling cost or to allow us to improve the samples until you feel good to them.
Question 5: If there is any damages or any defective products when I got the goods, what should I?
Answer 5: Firstly, we can provide 1% backup for the damages or the defective during the shipping, if you ask more, we have to ask you to provide the video before we send you the new replacement.
Question 6: If I need some certificates for my own packaging, what should I do?
Answer 6: Tell us which kind of certificate you need, we will provide those for you or help you get the certificates.
Question 7: If I want to visit your factory, what I can do?
Answer 7: Tell us your schedule when you are going to Shenzhen, we will pick you up to our factory.
Copyright 2023 All Right Reserved Zhibang Packaging & Printing ICP:08118166 Sitemap